USB Type-C

®

Controllers, ReDrivers, Crossbar Switches & Power Delivery Solutions
USB 3.2 with Power Delivery over USB Type-C (whitepaper)
We offer a number of products for the emerging USB Type-C® connector standard for ultra-mobile notebook / all-in-one PCs, tablet, and smartphones. They include high-performance crossbar switches, Mux Switches, c switch and ic switch, USB 3.1 Gen2/ Gen1 and Display Port 1.4/ 1.2 ReDrivers/ Repeaters, and USB power delivery or USB Type-C power delivery (USB PD or USB C PD) solutions; such as charger controller, charger detection, intelligent power switches, AC-DC and DC-DC converter solutions, transient voltage protection voltage protection and discrete MOSFETs.
USB Type-C® Product in Notebook Application

Roll over components to browse to details…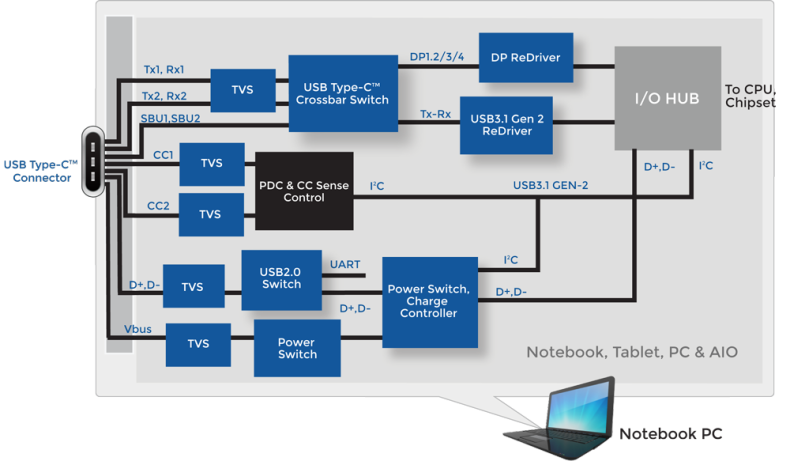 USB Type-C is a new standard 10Gbps reversible plug/ receptacle providing multi-function single-cable solution for USB, Power, USB C PD, Audio/ Video & Data, and C display. Its small profile suits multiple applications including smartphones, tablets, laptops, all-in-one PCs, storage peripherals, and ultra HD displays.
Features:
Lowest Loss Signal Mux/ Crossbar switches provide the crossover function at the Type-C connector.
USB 3.1 Gen2/DP 1.4 ReDrivers and active muxes help compensate for the channel losses for extended PCB and cable distances.
USB-C controllers integrated with USB3.1 Gen2 mux and VCONN switch provide easy conversion to Type-C.
USB charging controller provides the charging function for the host to the device during the sleep mode by connecting the power through a power USB switch.
USB Type-C Charger detection/ Protection ICs help identify the charger interface connected to the device and protect the USB port connected to the device, and power a USB controller.
Extensive power management portfolio include intelligent power switches, discrete power MOSFET, transient voltage suppressors, AC/DC and DC/DC converters.
Key reference designs for notebook, tablet, docking station, monitor, smartphone, and charger and adapters. We work closely with our partners to ensure smooth working solutions in these applications.
USB Type-C is a trademark of USB Implementers Forum.
USB Type-C Solutions
USB Type-C Controllers
USB Type-C Crossbar Switches (Active and Passive)
| | | |
| --- | --- | --- |
| Part Number | Description | Datasheet |
| PI3USB30532 | USB 3.1 Gen 1 Type C 6:4 Crossbar switch | Request |
| PI3DPX1205A | DP-Alt DP1.4/USB3.1 10Gbps 6:4 Type-C Linear ReDriver Mux with Latency-free Aux listening and DCI | Request |
| PI3DPX1207B | DP-Alt DP1.4/USB3.1 10Gbps 4:4 Type-C Linear ReDriver with Non-Blocking, Latency-Free and built-in Aux Switch | Request |
| PI3USB31532 | USB 3.1 Gen 2/Display Port 1.4 6:4 Crossbar Switch for Type-C, 3.3V | Request |
MUX: USB2, USB3.1 Gen1, USB3.1 Gen2
MUX: DP1.2, DP1.4, HDMI2.0
Power Switch, Over-Voltage Protection, MOSFET, USB Charger Detect
DC-DC Converter
| | | |
| --- | --- | --- |
| Part Number | Description | Datasheet |
| AP6503 | 340kHz switching frequency external compensated synchronous DC/DC buck converter | Download |
TVS (Transient Voltage Suppressor Diodes)
USB and DisplayPort ReDrivers/ Repeaters
| | | |
| --- | --- | --- |
| Part Number | Description | Datasheet |
| PI1EQX512A | 1.0V, 5.0Gbps, 1-port, USB 3.0 ReDriver | Request |
| PI2EQX502T | 1.2V, 5.0Gbps 1-port USB 3.0 ReDriver with Equalization & Emphasis | Request |
| PI3EQX7741AI | 3.3V, 5.0Gbps 1-port USB 3.0 ReDriver with Equalization & Emphasis | Request |
| PI3USB103 | Dual SPST USB 2.0 Switch with Back Drive Support and MHL Switching Support | Download |
| PI3DPX1207B | DP-Alt DP1.4/USB3.1 10Gbps Linear Redriver with Aux listening, USB/PCIe Inter-leaving signal switches | Request |
Video
Articles:
Read More: