DDR3.0 are the recent generation of DDR, offering between 800 to 2133 million transfers per second (MT/s) with a clock rate of 400 to 1066 MHz for DDR3.0. Its high throughput makes it ideal for high availability networking and communications equipment such as servers, RAID storage, data duplication equipment, and workstations, as well as for medical devices and other embedded systems.
Roll over components to browse to details…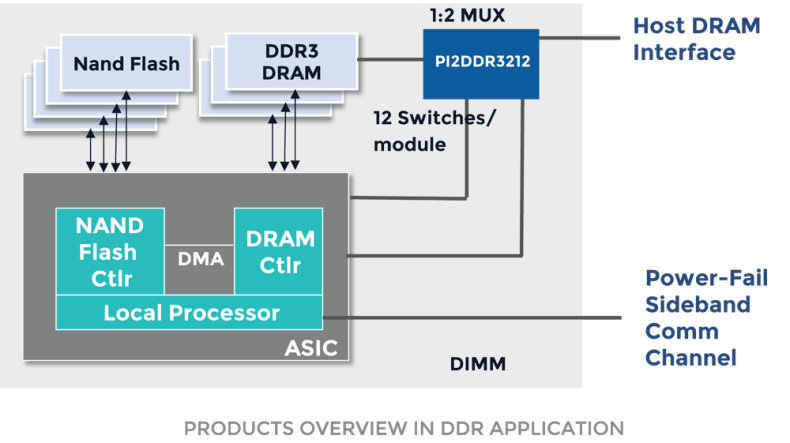 Diodes Incorporated DDR3.0 switches offer a low cost, compact alternative to traditional battery-backed memory circuitry to save SRAM data during a power failure. Through the use of a passive switch, CPU memory transactions pass seamlessly through the switch to SRAM. However, in the case of power failure, the switch diverts memory transactions to non-volatile Flash to preserve data. This allows developers to remove bulky and expensive batteries from systems while eliminating a key point of failure. In addition, systems no longer need a regular maintenance cycle to have their batteries replaced and recycled.
Diodes Incorporated DDR3 switches offer OEMs a best-in-class solution, including:
Overspeed Reliability: Switches that operate at line speed offer only borderline reliability since environmental signal integrity issues can result in reduced throughput. Diodes Incorporated offers the industry's fastest DDR3 switch, operating at 2.7 GTps, so that developers can over-speed systems and ensure that reliability will not be compromise during critical power failure backup events.
Higher Bandwidth: Furthering increasing bandwidth is the low I/O off capacitance of Diodes Incorporated switches – just 1.1 pf and less than half that of competitive switches.
Minimized Footprint: With its 14-bit bus for DDR3.0, Diodes Incorporated enable developers to switch large 64 or 128 bit memory busses with fewer chips, thus reducing board footprint, component count, and system cost.
Greater Margin: Diodes Incorporated DDR3 switches provide the best bit-to-bit skew of any DDR3 switch on the market. With just 18 ps skew, memory busses can be lined up properly to eliminate bit errors due to metastable bits (i.e., bits that have not stabilized before they are read), giving designers greater timing margin across the rest of the system.
Standard Supply Voltage: Because Diodes Incorporated DDR3 switches operate at the DDR3 supply voltage, no additional components for voltage translation are required.
Simplified Layout: Diodes Incorporated offers flexible packaging, including efficient QFN options that ease system design by leaving space for termination resistors and allowing for flow-through layout on the front and back of boards.
High-performance DDR components are just one part of Diodes Incorporated extensive portfolio of timing, switching, bridging, and signal conditioning. With a wide range of components optimized for protocols such as SAS/SATA, Ethernet, Fibre Channel, USB, PCI Express, and many others, Diodes Incorporated can meet all of your connectivity needs.