As a leader in storage technology, Diodes Incorporated brings its signal conditioning, switching, and timing expertise to Serial ATA (SATA) and Serial Attached SCSI (SAS), the industry standards for connecting systems to mass storage devices. With data rates of 3 Gbps for SATA2 / SAS, 6 Gbps for SATA3 / SAS2, and 12 Gbps for the emerging SAS3 standard, maintaining signal integrity is a primary design consideration for engineers of storage applications.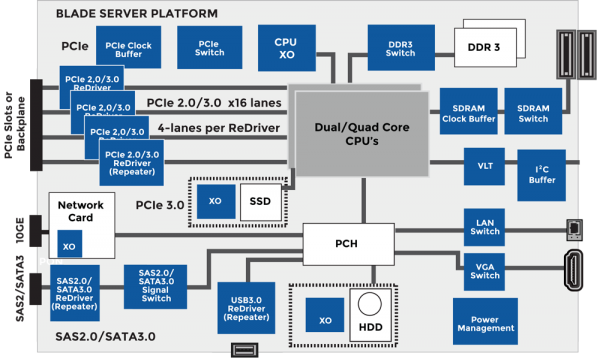 Diodes Incorporated provides a wide range of solutions for server and storage-based systems, including redrivers, signal switches, and timing sources. By improving end-to-end signal integrity, Diodes Incorporated SATA and SAS devices give engineers greater signal margin, thus simplifying overall system design, increasing interconnect reliability, and accelerating time-to-market. Diodes Incorporated is also the low power leader, enabling more power efficient design of server and storage equipment.

Redrivers™ provide signal conditioning for high-speed SATA and SAS interfaces to enable reliable data transfer over greater trace and cable lengths across backplanes, motherboard, and connectors, even in the presence of high environmental noise.
Diodes Incorporated is the only manufacturer in the industry to offer a comprehensive portfolio of redrivers that work in both SATA and SAS environments and, with a power consumption of less than 100 mW per channel, have the best power efficiency on the market.
Diodes Incorporated redrivers also provide developers more flexibility than other technologies. With a variety of 1-, 2-, and 4-port devices, developers can achieve greater integration for PCB board space and cost savings. Signal conditioning parameters can also be configured on a per channel basis via an MCU over I2C rather than having to be pinstrapped or hardwired like other technologies.
As a leader in the server market with its redriver technology adopted in more than 80% of server storage designs, Diodes Incorporated offers unparalleled design support, including availability of evaluation boards, professional schematic and layout review, and system simulation to optimize the key opening using S-Parameter models, AMI-IBIS, or HSPICE. Diodes Incorporated is also the first redriver manufacturer to achieve SATA3 compliance.
Signal Switches / Multiplexers:
In addition to SATA-specific switches operating at up to 6 Gbps, Diodes Incorporated offers 10 Gbps signal switches that can be used seamlessly with SATA and SAS applications. Designed for the high data rates of
PCIe
, these protocol-agnostic switches provide higher bandwidth in SATA / SAS systems for lower insertion loss and greater signal margin leading to easier equipment design.
Diodes Incorporated signal switches also provide superior performance compared to competitive technology. With low crosstalk and high-off isolation, these switches provide excellent noise immunity. Low skew between channels supports operation at very high speeds across multiple channels with better timing margins. In addition, with their fast switching time, these devices can support a variety of applications, including fast memory bank switching.

Timing Sources:
Diodes Incorporated has a wide selection of oscillators for SATA and SAS, including application-specific timing devices for storage applications. Low jitter provides superior performance for better signal margin and ease-of-design. Vertical integration capabilities also provide an optimized interface between the crystal and die, leading to lower system cost, improved jitter, and overall better performance. Because oscillators are application-specific standard products (ASSP), devices are available immediately without the manufacturing delays and added costs associated with custom timing products.
For applications with an embedded oscillator, Diodes Incorporated offers a range of low cost crystals as well as its own manufacturing capabilities. Diodes Incorporated has a 30M-piece capacity with manufacturing processes that support tight stability to meet the most stringent timing requirements.