Roll over components to browse to details…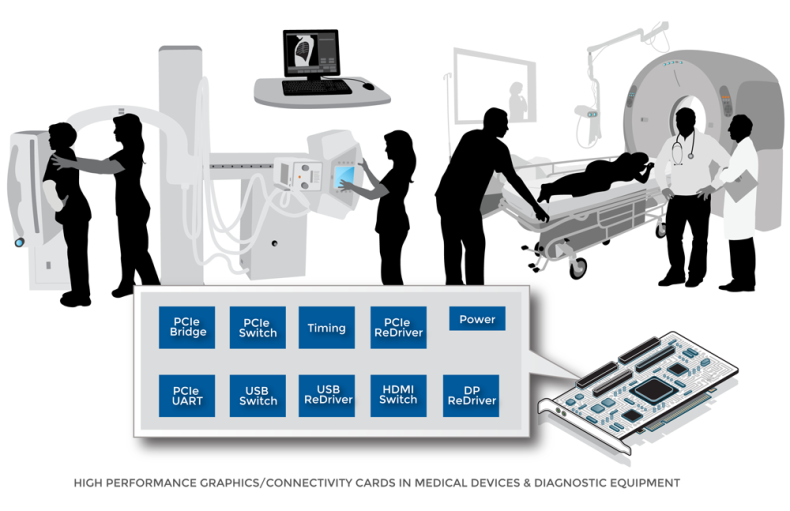 When designing medical equipment, factors such as safety, reliability, and accuracy are critical for engineers to keep in focus. This is true for any medical application, whether a system is intended for consumers like a blood-glucose meter, blood-pressure monitor, insulin pump or hearing aid or is a high-end diagnostic system such as a computed tomography (CT) scanner, ultrasound machine, or magnetic resonance imager (MRI).
To meet such strict requirements, solutions that maximize signal integrity while minimizing cost and power consumption are needed. With its advanced signal conditioning technology and wide portfolio of devices, Diodes Incorporated offers the industry's best combination of bundled solutions optimized for performance and bill-of-materials (BOM) cost:
Connectivity Solutions for Medical Device:
A wide range of PCI Express-based switches, bridges, UARTs, and switch/bridge ("swidge") devices enable connectivity in medical applications requiring reliable, high-speed interfaces. Diodes Incorporated connectivity solutions offer the highest throughout, best insertion and return losses, and ultra-low power operation.
Timing Solutions for Medical Device:
High-performance clock sources are the foundation for maintaining signal integrity in medical systems requiring faster data rates and higher reliability. With the best jitter performance in the industry, Diodes Incorporated provides the most accurate timing solutions available across an extensive range of packaging options and capabilities so you can find the ideal timing device for your application.
Signal Conditioning Solutions for Medical Device:
Diodes Incorporated's redriver / repeater technology for restoring signal integrity in high-speed systems and achieving the maximum eye opening at the receiver is unparalleled. By boosting signal strength and adjusting for deterministic losses due to factors such as jitter and attenuation, Diodes Incorporated redrivers increase signal margin to simplify the design of systems utilizing high throughput interconnects, maintaining reliability over longer trace and cable lengths, and reducing system cost by allowing the use of lower cost components within the signal chain. Diodes Incorporated also provides its signal conditioning technology for the latest specifications, including PCI Express Gen 3 and USB 3.0
Power Solutions for Medical Device:
Diodes Incorporated offers a range of power devices, including reset ICs, low drop out (LDO) regulators, and power supervisors. With high ripple rejection, low current consumption, and packaging as small as 1 mm x 1 mm, these devices help ensure the highest power and board real estate efficiency throughout the entire medical system.
Quality and Reliability:
With its broad portfolio of DisplayPort and HDMI ReDrivers and signal switches, Diodes Incorporated enables you to achieve the highest video quality and reliability as required for diagnostic and high-end medical imaging equipment.
Diodes Incorporated has devices optimized for the major interconnect technologies used across the medical industry, including USB for consumer-based devices, PCI Express for high-end equipment, and DisplayPort/HDMI for image-based applications. A wide variety of interfaces are available to simplify connectivity to standard processors, thus eliminating the need for additional components or FPGAs to provide glue logic. Devices also offer 4 kV reinforced isolation to meet patient and equipment safety regulations.
Diodes Incorporated is dedicated to providing you outstanding customer care that begins with easy access to evaluation boards and samples from its extensive portfolio. Global inside and outside sales complimented by Tier 1 distributors and reps offer expert help in selecting bundled solutions optimized for your application, thus eliminating the need to specify parts from multiple vendors. With its own manufacturing facilities, Diodes Incorporated offers short lead times for volume products. In addition, Diodes Incorporated is attentive to all of its customers, even those with low volume applications.
To ensure you take full advantage of its technology, Diodes Incorporated also offers superior design support with evaluation boards backed by full documentation, production-ready software drivers and source code, programming tools, layout/Gerber files, schematics, application notes, and worldwide field support. Expert schematic review is available to accelerate design, minimize board respins, and reduce system cost.
See Diodes Incorporated Medical Device Solutions (Click Image)