How to save standby power and increase integration for the power system of wireless, connected IoT devices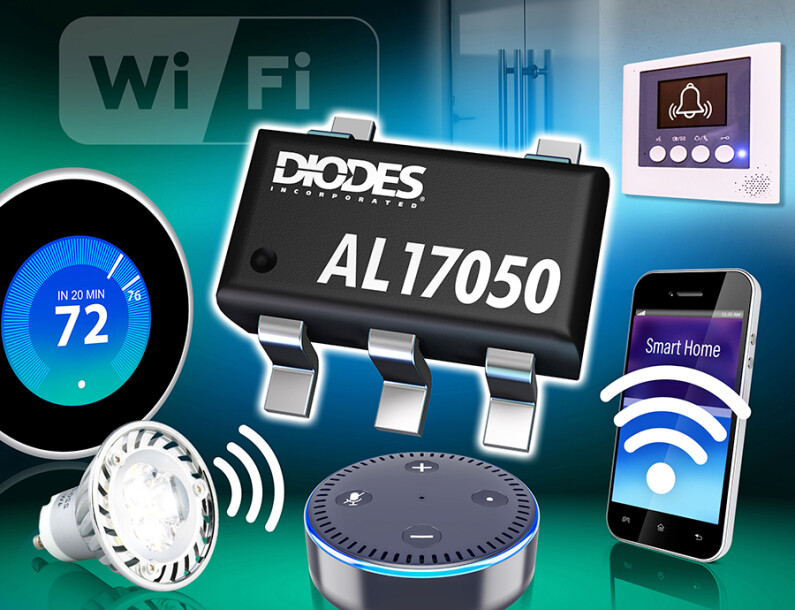 By Allan Lin, LED Lighting Business Unit Manager, Diodes Incorporated
Homes and factories around the world are getting smarter. Communications and control systems are increasingly connected by all kinds of wireless technologies, intended to bring more convenience and efficiency to everyday life. Actuators and sensors can be accessed from anywhere in the world as part of the Internet of Things (IoT) to give a much more sophisticated view of equipment, allowing data to be sent to the cloud for analysis so that systems can be repaired before they break down. For example, LED bulbs can be controlled remotely and timely, selecting light color temperature according to the environment via Wi-Fi, Zigbee or Bluetooth Low Energy.
All of these smart connected devices need low standby power, and this can be a challenge for power system designers. Power conversion must be efficient across all loads, when a wireless transceiver sends or receives data packets or when an actuator activates. But these are relatively rare occurrences. Most of the time the smart systems are sitting and waiting to listen, and this 'idleload' standby condition can be quite a waste of power under a bad power conversion system.
A major challenge is developing a power converter that is optimized efficiently across the full range of loads with a constant, stable output voltage. This can be quite a complex design task, as the output voltage can vary with the current being drawn.
Regulatory challenges
For the developers of such systems, there are even more challenges than just the performance of the power sub-system. There are many different regulatory environments around the world, with different countries wanting slightly different versions of a power system to meet their standby power, transient and other regulations.
Again, this can be a complex design challenge for the developer of a smart connected power system and a cost-sensitive one as well. A design that meets all the global requirements can be more expensive and potentially less power-efficient than one optimized for a particular country. But designing separate products and topologies for the different regions around the world brings its own expense in managing all the different variations.
The power of integration
All these challenges can be addressed by increasing the integration of chips in the power system for smart connected devices. By integrating a high-voltage MOSFET switch alongside the power controller in a single package, all the regulatory requirements around the world can be met while still providing the power efficiency and standby power saving that designers need for just a few cents.
The AL17050 step-down converter, for example, has been developed to accept an AC input voltage between 85V AC and 265V AC, making it suitable for any region. It produces a constant voltage of either 3.3V or adjustable by an external resistor to different levels at an output up to 60mA for the microcontrollers to power the heart of these wireless IoT nodes.
The device also integrates protection against over-temperature, over-load, output-short and open-loop conditions, and fits into a small SOT25 package. This level of integration removes the need for feedback in the form of an optocoupler, so the AL17050 requires very few additional components in a buck-converter configuration. This makes it suitable for those smart devices where space is often limited.
Energy efficiency
Using higher levels of integration with a deep understanding of the power and regulatory requirements around the world can help developers with their IoT and smart device designs. Highly integrated devices such as the AL17050 can take a wide range of inputs safely and produce the constant voltage that the controllers and wireless transceivers need, reducing the complexity and cost of the designs that can be shipped to customers globally.
But most important is the boost in efficiency across all loads under varied switching frequencies. With billions of connected devices expected to be shipped around the world over the next few years to make homes and factories smarter, improving energy efficiency is vital. This can save millions of tons of carbon dioxide that contribute to climate change, while improving the effectiveness of industries and the way people live their lives.