Level Shifters | Level Translators
Our wide portfolio of level shifter and level translator devices can solve today's communication issues among mixed applications, as many products are bidirectional and scalable from 1-bit to +32-bits with support for power from 1.5V to 5V.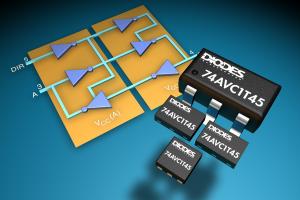 We offer a variety of voltage level shifters and voltage level translators that provide mixed signal logic functionality as well as multiple supply voltages. Our high-speed voltage translator, voltage shifter, and other specialty Interface IC solutions for memory modules offer high performance with low propagation delays. They support 8-bit, 16-bit and 32-bit functions with a performance mix of voltage translators. Our variety of universal level shifter (ULS) ICs and voltage translator ICs provide TTL, HSTL and SSTL functions, as well as supply voltages from 1.2V to 5V.
Our serial bridge portfolio ranges from cost-effective I2C/SPI Universal Asynchronous Receiver/Transmitters (UARTs), to high-performance multi-port PCI express (PCIe) UARTs.
The Low Voltage Differential Signaling (LVDS) product line offers line drivers, receivers, transceivers, crosspoints, clock/data distribution and repeaters that solve today's high speed I/O interface translation requirements supporting 8-bit, 16-bit, 18-bit and 32-bit functions.
Our multiplexers and switches offer solutions for a variety of applications with 2, 4, and 8-channel devices. IO expander products are available with I2C bus interface and 2 to 48 IOs. Our GTL devices are used in point to point applications. Our portfolio of Standard Logic devices offer wide supply voltage range and are supported by an array of packages including QFN for small space-constrained systems.
Our line of HDMI and DisplayPort Repeaters equalize input signals and reduce jitter on the display data signal path. Increased signal jitter margin provides engineers the system design flexibility, BOM cost reduction, and improves their time-to-market. Our display switches are compact, highly integrated, cost-competitive, power efficient, and have low jitter and high electrostatic discharge (ESD) protection.