Featured Products
Small-size LDOs | High PSRR LDOs | Low IQ LDOs | Wide Input Voltage LDOs | High Current LDOs | Automotive LDOs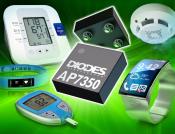 Small-size LDOs: Small form factor
Today's electronic designs are getting more and more dense, and PCB space is consequently getting smaller and smaller. Diodes' Small-size LDOs accomplish this challenging task and deliver the same high-quality performance while consuming as little space as possible.
High PSRR LDOs: Clean up your power supply
High PSRR LDOs effortlessly power any system in a rough power supply environment. They provide high rejection on the power supply noise to provide clean, DC power to ensure system reliability.
Low I Q LDOs: Save power
Every day more and more battery-powered products are being introduced into our daily lives. Low IQ LDOs can help to extend the battery life of these essential devices. Preserving energy is the task of today's electronic devices, and by minimizing the quiescent current of an LDO, our products help to achieve low standby power across a variety of applications.
Wide Input Voltage LDOs
Diodes' wide input voltage LDOs, up to 40 volts, provide simple, cost-effective solutions to supply MCUs, Embedded systems, sensors and other active components when facing a high-voltage environment. The high accuracy and current limit functions make any design more reliable and robust.
| | | | | |
| --- | --- | --- | --- | --- |
| Part Number | Description | VIN Max (V) | Datasheet | Order Options |
| AP2205 | 200mA, high accuracy, high ripple rejection, low dropout voltage, low noise, current limit and ultra-low quiescent current | 24 | Download | Buy Now |
| AP7370 | 300mA high accuracy, low dropout voltage, current limit, reverse current protection, and ultra-low quiescent current | 18 | Download | Buy Now |
| AP7380 | 150mA, Ultra Low IQ , +/-1% Accuracy LDO with Current Limit and Enable | 24 | Download | Buy Now |
| AP7383 | 150mA, Ultra Low IQ, Low dropout voltage With Excellent Line/Load Regulation | 30 | Download | Buy Now |
| AP7381 | 150mA, Low IQ, With Short Current Protection Function | 40 | Download | Buy Now |
| AP7384 | 50mA, Low IQ, With Excellent Line/Load Regulation | 40 | Download | Buy Now |
High-current LDOs: Heavy load, Avoid switching noise
Switching noise can threaten performance in many applications. Our high current LDOs up to 3A provide clean, accurate and efficient power for those heavy, sensitive loads. Additional High-PSRR featured LDOs eliminate ripple, offer high output accuracy (1% max) and deliver low dropout of 330mV and below.
Automotive LDOs: Compliant to AEC-Q100 with a Grade 1 (-40C to +125C) temperature rating
Diodes Automotive LDOs feature a high power supply rejection ratio (PSRR) of 75dB at 1kHz to deliver stable output voltages suitable for automotive applications, such as point of load power supplies in ADAS, RF communications, cameras and infotainment systems. The products are available with or without an output discharge function.
Technical Documents: