Infotainment and Telematics
Modern vehicles offer an advanced suite of in-car Infotainment services. At the center of this is the high-resolution, full-color touch screen display that makes the new media system more usable, informative and attractive. This unit combines entertainment, GPS navigation, multimedia and driver information functions in one. Diodes Incorporated has created a range of timing, USB ReDriver, USB Switch, and PCI Express® Packet Switch products that can be integrated into these systems to enhance performance.
Roll over components to browse to details…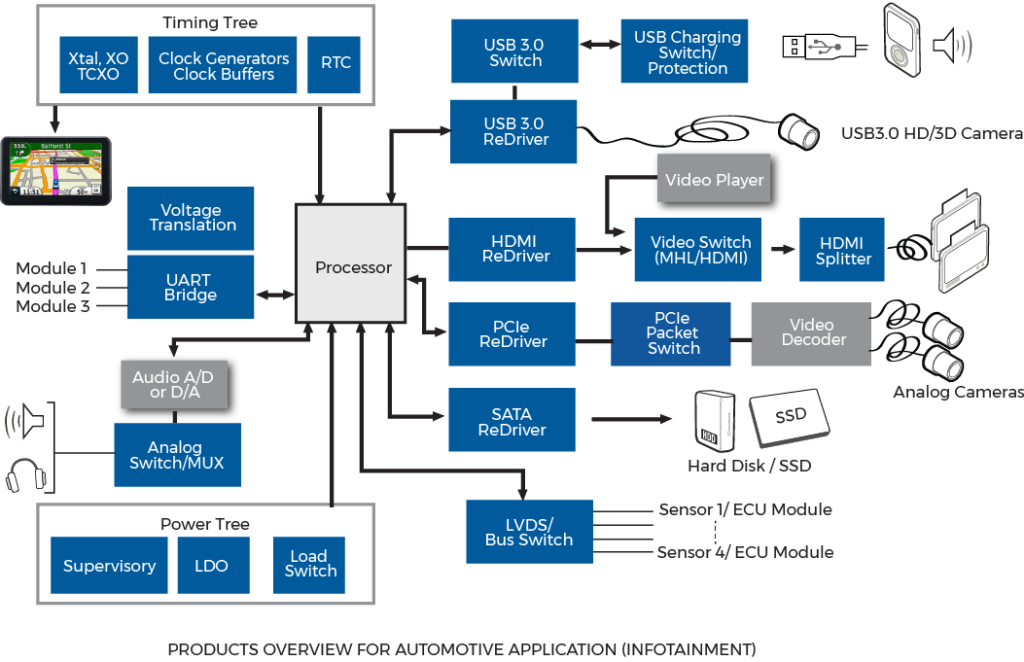 Timing Solutions:
ReDriver Solutions: Broad portfolio of ReDrivers (e.g. USB3.0, SATA, Video, etc.) to help you extend your clean signal.
Supports USB3.0 wire/cable extension across automotive
To ensure a reliable USB3.0 link from USB3. to host device
Improve USB3.0 signal performance in automotive infotainment
Connectivity Solutions: PCIe (Packet) switch family to expand the PCIe interface to meet growing PCIe interface needs.
USB Solutions: Our range of USB products enable the integration of consumer device functionality into the automotive experience. Diodes Incorporated USB charging products, in particular, provide on-the-go-in-car charging convenience.
Charging phones without USB host controller – overall lower cost
3x faster-charging solution than others – saves time
LVDS Solutions: Broad family of LVDS drivers, receivers, transceivers, crosspoint, clock/data distribution, and repeaters to meet I/O interface requirements.